Feeling the Winter blues and can't wait for Spring to get here? I totally get it and I'm in the same boat as you. Winter can be such a beautiful time of the year with the snow on the ground and of course celebrating Christmas but it can really take a toll on our skin and our moods. When Spring is in the air and the sun stays out longer our moods increase dramatically and we can go outside more frequently. But how do we get our skin to look as refreshed and youthful as we do on the inside? The answer to that is skincare!
Skincare doesn't have to be scary of not knowing how to start or crazy expensive; all you need are a few good products and consistency. Now where should you start? Start with developing a morning routine. For a morning routine all you need is a gentle cleanser, toner, an eye serum/ cream, face serum/oil, and a moisturizer preferably with SPF. I found for myself I use about 5-6 products in my morning skincare routine to really make sure that I keep my skin protected from the sun and moisturized since I have combination skin leaning towards the dry side. Lately I have been using the facial cleanser by TrulyLifestyle Brand ($21)which is a gentle enough cleanser that can be used morning or night with a beautiful citrus smell perfect for waking up in the morning. This cleanser gently exfoliates dead skin cells, helps to treat and prevent breakouts, and makes your skin feeling soft and refreshed. The best part is, a little bit goes a long way and is not a foaming product which I love!
Next up is toner. Toner helps to balance the skin's PH level after it's been cleansed and helps to remove any left over makeup/ oils. With any type of cleansing our skin's surface level is stripped of it's natural oils and may feel irritated. Applying toner will help soothe the skin, provide added moisture and allow the skin to better absorb your serums and moisturizer better. I use two different toners that helps to make my skin feel refreshed, moisturized and help to brighten. My favourites are: K'Pure Good Morning and Ursa Major 4-in-1 Essential Face Tonic; they smell great and they come in a spray bottle which is nice and easy for a morning routine.
Now you're probably wondering is a face oil/serum really necessary if I'm applying a moisturizer? I wouldn't say it's completely necessary but I do highly recommend it. Depending on what your skin type is will determine the kind of oil/serum you'll use. Typically for daytime I prefer a lighter formula underneath my moisturizer so it doesn't interfere with my foundation. I've been using the Woodlot Nourishing Facial Oil which is a perfect combination of a light but thick enough formulation that absorbs beautifully into the skin without feeling too oily afterwards.
After applying a facial oil/ serum, an eye serum/cream is also important. This will help with any dark circles and puffiness under the eyes. Since my eye serum does not have a roller application I use my Jade roller to smooth the serum out and to add an extra depuffing element to my routine. Using a Jade roller or a Gua Sha to help smooth all serums and moisturizers over the skin will help to absorb deeper into the skin, to promote blood flow, depuff, and create a healthy glow.
Once the eye serum/cream has been applied the moisturizer is the last step step. I love using the Coola Cucumber SPF 30 mineral moisturizer. Since this is a mineral sunscreen moisturizer I have the benefit of a 2 in 1 product which makes it easier to have one less product to add into my morning routine. This product is perfect for helping to create a smooth, slightly blurred surface for makeup application. Once massaged into the skin, it doesn't even feel like there is anything on the face and most importantly this helps to assure that everyday our face is being protected from the sun.
Having a skincare routine that is done everyday not only starts your day off right but it already feels like you've accomplished a task off of the to-do list. I hope these tips have helped and encouraged you to try out either a new morning routine or revamped yours.
XoXo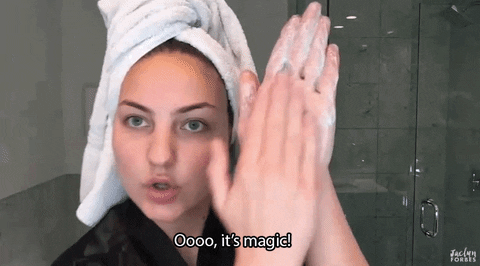 #skincare #springahead #nomorewinterblues #selfcare #beauty #cleanskincare